Sacred Texts
Esoteric
Christianity
Index
Next
---
---


Jesus, the Last Great Initiate, by Edouard Schuré, [1908], at sacred-texts.com
---
JESUS
THE LAST GREAT INITIATE
BY
EDOUARD SCHURÉ
TRANSLATED BY
F. ROTHWELL, B.A.
PUBLISHED BY
YOGI PUBLICATION SOCIETY
MASONIC TEMPLE, CHICAGO, ILL.
[1908]
Scanned, proofed and formatted at sacred-texts.com by John Bruno Hare, June 2008. This text is in the public domain because it was published prior to 1923.


Click to enlarge
Front Cover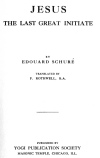 Click to enlarge
Title Page

THE MISSION OF THE CHRIST
"I came not to destroy the Law and the Prophets, but to fulfil them."—Matthew v. 17.
"The Light was in the world, and the world was made by it, but the world knew it not. "—John i. 10.
"As the lightning cometh out of the east, and shineth even unto the west; so shall also the coming of the Son of man be."—Matthew xxiv. 27.
---
Next: Preface