Sacred Texts
Classics
Index
Previous
Next
---


The Eleusinian and Bacchic Mysteries, by Thomas Taylor, [1891], at sacred-texts.com
---
Εις ΑΘΗΝΑΝ.
ΚΛΥΘΙ μευ αιγιοχοιο διος τεκος· ἡ γενετηρος
Πηγης εκπροϑορουσα, και ακροτατης απο σειρας
Αρσενοϑυμε· φερασπι· μεγασϑενες· οβριμοπατηρ, *
Κεκλυϑι· δεχνυσο δ' ὑμνον ευφρονι ποτνια ϑυμω
Ἡ σοφιης πετασασα θεοστυβεας † πυλεωνας.
Και χϑονιων δαμασασα θεωμαχα φυλα γιγαντων.
Ἡ κραδιην εσαωσας αμυστιλευτον ‡ ανακτος
Αιϑερος εν γυαλοισι μεριζομενου ποτε Βακχου
Τιτανων ὑπο χερσι, πορες δε ε πατρι φερουσα
Οφρα νεος βουλησιν απ' αρῥητοισι τοκηος,
Εκ Σεμελης περι κοσμον ανηβηση Διονυσσος.
Ἡς πελεκις § θηριων ταμνων προθελυμνα καρηνα
Πανδερκους ἑκατης παϑεων ἡνυσε γενεϑλην·
Ἡ κρατος Ἡρας σεμνον εγερσι βροτων αρετα·ων
Η βιοτον κοσμησας ολον πολυειδεσι τεχναις,
Δεμιουργικην οερην ‖ ψυχαισι βαλλουσα·
Ἡ λαχες αχροπολια . . . . . .
Συμβολον ακροτατης μεγαλης σεο ποτνια σειρης·
Ἡ χϑονα βωτιανειρα φιλησας μητερας βιβλων.
Ουνομα αστυ δε δωκας εχειν σεο και φρενας εσϑλας.
Κλυϑι μευ ἡ φαος ἁγνον απαστραπτουσα προσωπου·
Δος δε μοι ολβιον ορμον ἁλωομενα περι γαιαν.
Δος ψυχῃ φαος αγνον απ' ευιρεων σεο μυϑων·
Και σοφιην· και ερωτα· μενος δ' εμπνευσον ερωτι, 
Τοσσατιον, και τοιον, οσον χϑονιων απο κολπων 
Αψερνη προς Ολυμπον ες ηϑεα πατροσ εοιο, 
Ειδε τις αμπλακιημε * κακη βιοτοιο δαμαζει.
Ιλαϑι μειλιχοβουλε· σαομβρστε· μηδεμεασης † 
῾Ριγεδαναις ποιναισιν ελωρ και κυρμα γενεσσα, 
Κειμενον εν δαπεδοισιν, ὁτι τεος ευχομαι ειναι· 
Κεκλυϑι κεκλυϑι· και μοι μειλισχιν ουας ὑποχες.
TO MINERVA.
Daughter

of ægis-bearing Jove, divine,
Propitious to thy votaries' prayer incline;
From thy great father's fount supremely bright,
Like fire resounding, leaping into light.
Shield-bearing goddess, hear, to whom belong
A manly mind, and power to tame the strong!
Oh, sprung from matchless might, with joyful mind
Accept this hymn; benevolent and kind!
The holy gates of wisdom, by thy hand
Are wide unfolded; and the daring band
Of earth-born giants, that in impious fight
Strove with thy fire, were vanquished by thy might.
Once by thy care, as sacred poets sing,
The heart of Bacchus, swiftly-slaughtered king,
Was sav'd in Æther, when, with fury fired,
The Titans fell against his life conspired;
And with relentless rage and thirst for gore,
Their hands his members into fragments tore:
But ever watchful of thy father's will,
Thy power preserv'd him from succeeding ill,
Till from the secret counsels of his fire,
And born from Semelé through heavenly sire,
Great Dionysus to the world at length
Again appeared with renovated strength.
Once, too, thy warlike ax, with matchless sway,
Lopped from their savage necks the heads away
Of furious beasts, and thus the pests destroyed
Which long all-seeing Hecaté annoyed.
By thee benevolent great Juno's might
Was roused, to furnish mortals with delight.
And thro' life's wide and various range, 't is thine
Each part to beautify with art divine:
Invigorated hence by thee, we find
A demiurgic impulse in the mind.
Towers proudly raised, and for protection strong,
To thee, dread guardian deity, belong,
As proper symbols of th' exalted height
Thy series claims amidst the courts of light.
Lands are beloved by thee, to learning prone,
And Athens, Oh Athena, is thy own!
Great goddess, hear! and on my dark'ned mind
Pour thy pure light in measure unconfined;—
That sacred light, Oh all-protecting queen,
Which beams eternal from thy face serene.
My soul, while wand'ring on the earth, inspire
With thy own blessed and impulsive fire:
And from thy fables, mystic and divine,
Give all her powers with holy light to shine.
Give love, give wisdom, and a power to love,
Incessant tending to the realms above;
Such as unconscious of base earth's control
Gently attracts the vice-subduing soul:
From night's dark region aids her to retire,
And once more gain the palace of her sire.
O all-propitious to my prayer incline!
Nor let those horrid punishments be mine
Which guilty souls in Tartarus confine,
With fetters fast'ned to its brazen floors,
And lock'd by hell's tremendous iron doors.
Hear me, and save (for power is all thine own)
A soul desirous to be thine alone. *
It is very remarkable in this hymn, that the exploits of Minerva relative to cutting off the heads of wild beasts with an ax, etc., is mentioned by no writer whatever; nor can I find the least trace of a circumstance either in the history of Minerva or Hecate to which it alludes. † And from hence, I
think, we may reasonably conclude that it belonged to the arcane Orphic narrations concerning these goddesses, which were consequently but rarely mentioned, and this but by a few, whose works, which might afford us some clearer information, are unfortunately lost.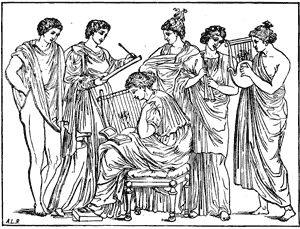 Musical Conference.
---
Footnotes
224:* Lege οβριμοπατρη.
224:† Lege θεοσεβειας.
224:‡ Lege αμυσι λυτου.
224:§ Lege πελεκυς.
224:‖ Lege Ορμην.
225:* Lege αμπλακημα.
225:† Lege μηδ' εμ' εασης.
227:* If I should ever be able to publish a second edition of my translation of the hymns of Orpheus, I shall add to it a translation of all those hymns of Proclus, which are fortunately extant; but which are nothing more than the wreck of a great multitude which he composed.
227:† If Mr. Taylor had been conversant with Hindu literature, he would have perceived that these exploits of Minerva-Athenè were taken from the buffalo-sacrifice of Durga or Bhavani. The whole Dionysiac legend is but a rendering of the Sivaic and Buddhistic legends into a Grecian dress.—A. W.
---
Next: Appendix